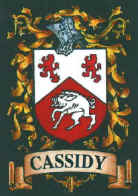 The Cassidy Clan is a perpetual hereditary association comprised of persons who bear the Cassidy surname, or are descended from an ancestor with the Cassidy surname or any variant spellings of Cassidy.
Membership in our Irish Clan is open to all persons without regard to race, ethnic origin, religion, age or gender. We take pride in our heritage as physicians, priests and scholars, seek to build common bonds among all Cassidys and their descendants and every three years host a rally in County Fermanagh, Northern Ireland, where all Cassidys originated.
The Clan has their own website with information about and news of the Clan activities, under www.cassidyclan.org
Anyone wishing to join the Cassidy Clan can do so by registering on the website under http://cassidyclan.org/about-the-clan-/membership/
The Clan is also present on Facebook: https://www.facebook.com/cassidyclan/
Elisabeth and I attended the 2017 Clan Rally at Enniskillen and really enjoyed meeting other Cassidys and learning about our history. We visited historic sites in the area, which have been occupied by the Cassidys over generations. I made a photo documentation of the rally events and will attach the photos in albums here. You are very welcome to browse the photos and if you wish to have a copy of a particular photo in full resolution, please do not hesitate to contact me by e-mail on kerry(at)cassidys.ch , giving the reference number of the photo.
I hope you enjoy browsing, Kerry