After working for Pro Nautik in Romanshorn for 24 years, I officially retired at the end of February 2010. Life is certainly not boring but our plan to take Annina III to the Mediterranean for a few years has was shelved. I had my left shoulder repaired again in January 2010 and that should now be ok, but with limitations. The knowledge that I have osteoporosis makes me worry about the possibility of stumbling in a storm and breaking a bone. That could put us in a dangerous situation, hence the change of plan. We ordered a new motorhome which was delivered late in May 2011 and we now explore Europe that way. Elisabeth can then drive me to the nearest hospital if necessary! I now also have arthrose in my knees which rather limits the possibilities of long hikes etc. I had my right shoulder replaced in November 2013 and unfortunately it is not as it should be. I am still hoping! We have had several very interesting tours with the Hymer, the longer ones being an extended tour of northern Germany in 2011 and almost eight weeks touring Scandinavia in July and August of2013.
We had a busy year in 2014 including another trip Turkey and Greece and several visits from overseas.
2015 was a special year as we had several reasons to celebrate. I turned 70, Elisabeth 65, we've known each other for 42 years and have been married for 40 years.
If you are interested here are links to a few photos from our various travels etc:
Link to photos of Northern Germany 2011
Link to photos of Scandinavia 2013
Link to photos of Southern France 2013
Link to photos of Canada and Alaska 2015
John and Tina presented us with a healthy happy grand-son in January 2010. Liam is a real delight and we are already doting grand parents.
On the 18th October 2011 Liam's little sister Elaine arrived. Liam loves Elaine and is always ready to teach her things.
She adores him and always has one eye on whatever he is doing.
As we are now not going cruising, I decided to start a small business offering my services in marine electronics and marine electrics. I have a web site on line under www.cassidys.ch/mb . It is in German, but if you are interested you will get the idea. I hope to get enough work to keep me occupied and to earn a little money to supplement my pension. If it gets too involved, I can always say NO!
My great love, (other than Elisabeth) is still sailing.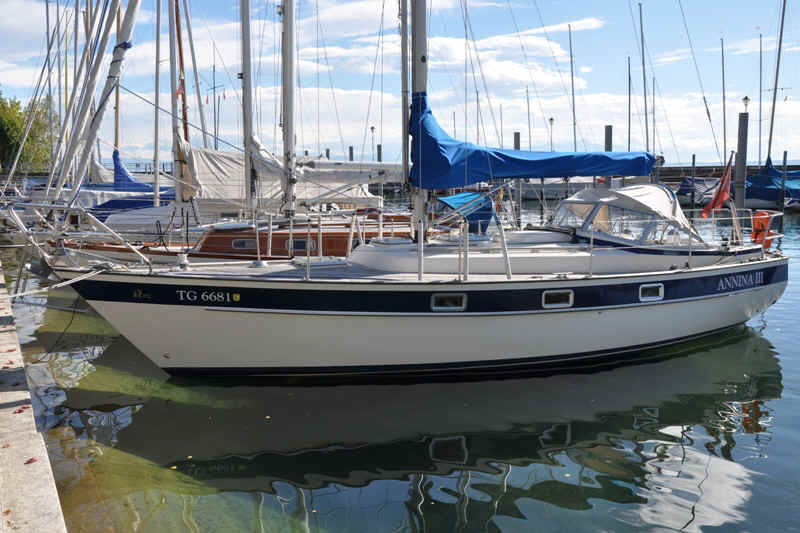 Annina III
Late in Summer 2004 we chanced upon a yacht that we had long dreamed of owning for the Lake of Constance. I had been commissioned to repair the refrigerator on a Hallberg Rassy 312 and while talking to the client I discovered that the yacht was for sale. After negotiating a few hurdles, we were able to buy the yacht in Autumn 2004. I have now spent considerable time working on it and have done quite a few repairs and some upgrading to make her even more comfortable. We enjoy the added comfort she offers over our previous yacht and we will be spending as much time as possible on the lake again this year.
Sailing, Lake of Constance
We have sailed quite a bit in the Mediterranean over the last few years. We have joined friends in Sardinia and Turkey several times and in 2007 joined another friend to sail from Tunisia to North East Sardinia. They have all been wonderful experiences and have managed to arouse our lust for cruising again. In Spring of 2012 and 2013 we joined friends, first on a trip through the Rhein Rhone Canal and later in the South of France. That was a special experience.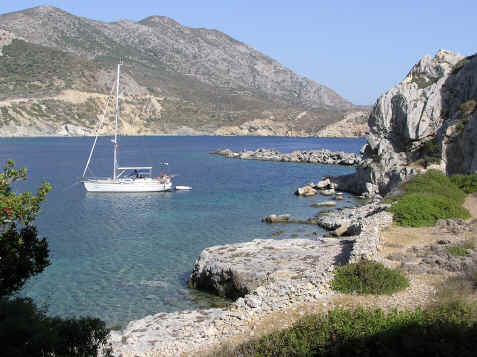 (Photo: Knidos, Turkey, 2004)
I have posted a few photos of the Mediterranean in the photo album. I have now sorted the Med. photos into the various regions. Just click on the desired area to open an album. I hope to be able to expand on these photos in the next few years. They are meant to help cruising yachties to get an idea of the various harbours and anchorages. When I have time, I hope to add a few tips regarding amenities etc. (Photo Album)
One of my current hobbies is utilising a notebook computer aboard the yacht, for navigation and for weather forecasting etc. This can be very interesting, particularly for people who charter yachts rather than maintaining their own. The most charter yachts are rather barely fitted out when it comes to instruments and the notebook gives one the possibility to plan the cruise at home and then take the Computer, a GPS and a small SSB World receiver along on the cruise.
The weather program that I now use is MeteoCom 6 from Bonito. This is a super program which allows one to receive and decode weatherfax, radio teletype and Navtex transmissions and display and save them on the notebook. It also has the possibility to download data from their internet server if one has internet access. No extra interface is necessary as the computer's sound card is used as input! The program also supports the remote control functions of various receivers and the downloaded data is displayed on a map with wind arrows, wave heights and graphics for rain etc. It is extremely good and it covers the whole world. If you are interested please contact me and I'll send further details. There is further detail and a free trial of the internet version under the following link: http://www.bonito.net/infos/en_mar_mc61_ie.htm
The latest in affordable Navigation Software is TIKI. No it is not as you might think from New Zealand, but from Norway. If anyone is interested in further details, I have info on my Marinetech Site. Link: www.cassidys.ch/tiki.htm If you are interested in trying the software, you can download a trial version and then contact me if you wish to purchase a licence. The Tiki Navionics Gold version is really great and Navionics charts are now good value for money.
Tip! Please open external links with your right mouse button and select "open in a new tab". When you close that tab you will then be returned to this page!
I have included some interesting weather links in the links section. Links
If any one has further interesting information in this field, I would be glad to hear of it.
Regards, Kerry.
Link to article in a 2009 Pro Nautik newsletter, in German. "Down Under schwimmt oben auf."