After working for Pro Nautik in Romanshorn for 24 years, I officially retired at the end of February 2010. Life is certainly not boring but our plan to take Annina III to the Mediterranean for a few years has was shelved, due to my health condition, mainly shoulders, knees and osteoporisis. We changed plans and bought a mid sized motor home (RV for Americans) and have done many very interesting tours to date. Check out the photo album for details of our tours. It has also proved convenient for visiting family, as Miriam now lives in the South of France. We can travel with the Exsis to Aix en Provence and stay at the campground, travelling in to town by bus, which is normally only about 7 minutes.
2020 will be a year of celebrations. In February I will be 75, in May we will have been married for 45 years , Elisabeth will celebrate her 70th in June and Miriam is expecting her next baby around Easter, a little brother for Emma who will be two late in May.

In 2015 we had a fantastic cruise up the wast coast from Vancouver to Glacier Bay National Park via the inside passage, then followed with three weeks touring the Vancouver Island and the Canadian Rockies by motor home.
We enjoyed the cruise so much that we searched for a suitable cruise to experience the Pacific Islands. We had intended to spend a year cruising the Pacific in our yacht when we departed PNG, but were unexpectedly delayed in closing off the business and no longer had time for the Pacific. This cruise was to be a consolation for the missed cruise on our own yacht.
We found a great possibility with a relatively small cruise ship, Oceania's "Regatta". If you are interested, the album of this cruise in is on the photo album under Pacificcruise.htm We were so impressed with the quality of the Oceania cruise, that while on board we booked another cruise for late 2019.
We have just returned from that amazing cruise from Miami via the Caribbean to the Amazon, then a thousand nautical miles upstream to Manaus. We returned to Miami by a similar route, visiting different ports. It was really great. We have now booked cruises for late 2020 and Summer 2021. We are hooked!
The Cassidy Clan is holding another Clan Rally near Enniskillen in Ireland this year and although we will not have time to travel in the Motor Home, we intend to fly in for the weekend. We really enjoyed our last Clan Rally in 2017, which was part of an extended tour of Ireland in the motor home. Details in the album. I have added a page for the Cassidy Clan to the start page if anyone is interested and details of the last rally are there.
If you are interested here are links to a few photos from our various travels etc:
Link to photos of Northern Germany 2011
Link to photos of Scandinavia 2013
Link to photos of Southern France 2013
Link to photos of Canada and Alaska 2015
Link to album of Pacific Cruise 2017

Miriam and André are now living in the South of France and really enjoy the area. We do too!
John and Tina with their two children are doing well. Liam will be 10 in January 2020 and Elaing turned 8 last October.
They live much closer but have such busy schedules that we don't see much more of them than of Miriam and family.

My great love, (other than Elisabeth) is still sailing.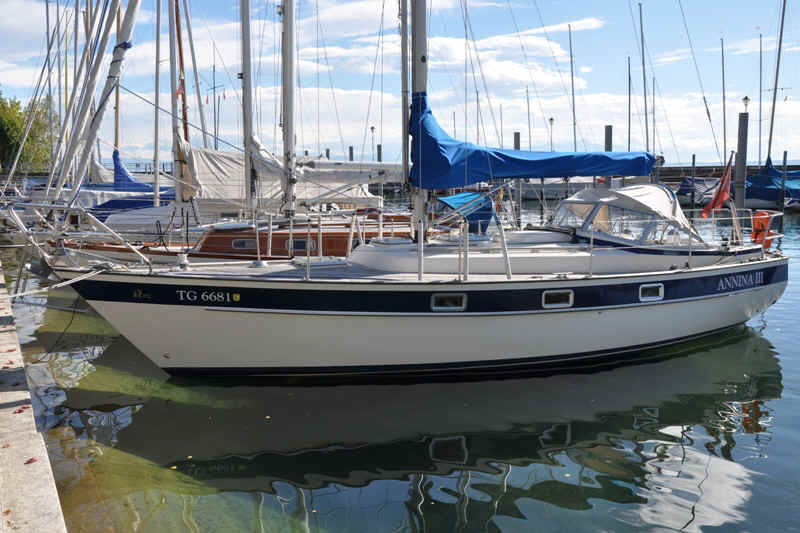 Annina III
Late in Summer 2004 we chanced upon a yacht that we had long dreamed of owning for the Lake of Constance. I had been commissioned to repair the refrigerator on a Hallberg Rassy 312 and while talking to the client I discovered that the yacht was for sale. After negotiating a few hurdles, we were able to buy the yacht in Autumn 2004. I have now spent considerable time working on it and have done quite a few repairs and some upgrading to make her even more comfortable. We enjoy the added comfort she offers over our previous yacht and we will be spending as much time as possible on the lake again this year.
Sailing, Lake of Constance
We have sailed quite a bit in the Mediterranean over the last few years. We have joined friends in Sardinia and Turkey several times and in 2007 joined another friend to sail from Tunisia to North East Sardinia. They have all been wonderful experiences and have managed to arouse our lust for cruising again. In Spring of 2012 and 2013 we joined friends, first on a trip through the Rhein Rhone Canal and later in the South of France. That was a special experience.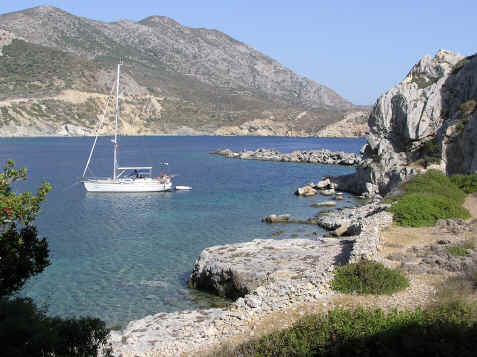 (Photo: Knidos, Turkey, 2004)
I have posted a few photos of the Mediterranean in the photo album. I have now sorted the Med. photos into the various regions. Just click on the desired area to open an album. I hope to be able to expand on these photos in the next few years. They are meant to help cruising yachties to get an idea of the various harbours and anchorages. When I have time, I hope to add a few tips regarding amenities etc. (Photo Album)
2020
Most of our friends who had yachts in the Mediterranean have now sold them, with the exception of Urs Rusterholtz.
We have joined him for quite a few interesting and enjoyable cruises. Some years ago he moved his yacht from Sete to Croatia and we have now seen quite a lot of the Croatian coastline and islands. That area is really beautiful and often has good sailing conditions.
We have another cruise with Urs on the program for this year.
Regards, Kerry.